Help! I'm trying to find a screencap from Pirates of the Caribbean 3: At World's End.

There is a scene in the movie where the monkey gets shot out of a cannon...I've spent the morning looking for a screencap of this but haven't been able to find one.

Can anyone help me out???



Never mind...I found what I was looking for:

Calm...
Not so calm...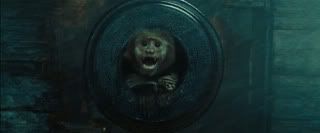 I'm so easily entertained. I also really liked this pic too...
Just a little chilly....